Beaver Valley residents remain under Stage 3 water conservation efforts as extreme drought conditions continue throughout the Regional District of Kootenay Boundary.  
Beaver Valley has been under these measures since Aug. 1, and a media release from the RDKB says the decision to remain in Stage 3 is essential to prevent district from having to enter Stage 4.  
"Stage 3 water conservation measures are crucial to avoid the implementation of Stage 4, a step we truly wish to avoid. By embracing these temporary changes and watering responsibly we have the power to safeguard our environment and maintain our outdoor water usage. This is our chance to make a difference.  Let's spread the word, and together, make a significant impact. Water conservation starts with each one of us, " says Goran Denkovski, RDKB's Manager of Infrastructure and Sustainability.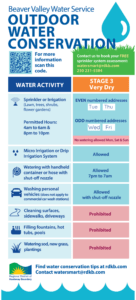 Under Stage 3, even-numbered addresses are permitted to use their sprinkler systems on Tuesdays and Thursdays between 4 am to 6 am and 8 pm to 10 pm. Odd-numbered addresses may use their sprinklers on Wednesdays and Fridays during the same time frames. Sprinkler use is strictly prohibited on Mondays, Saturdays, and Sundays, with an exemption for fruit and vegetable gardens.  
Along with the conservation efforts, the RDKB is encouraging residents to take part in their complimentary sprinkler system assessments, available to residents within the Beaver Valley Water Service, Rivervale Water Service, and Christina Lake Water Utility. The assessments aims to identify defects and improve water efficiency across lawns and gardens, helping residents reduce water usage. 
Residents who want to schedule their complimentary sprinkler system assessment, obtain authorization for watering new sod/grass seed, order indoor water conservation toolkits, or for any other WaterSmart and landscaping inquires can contact the RDKB at 250-231-5384, or visit their website